Russia
MKB began to issue loans to new clients remotely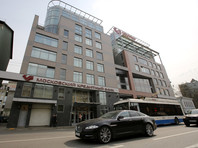 Credit Bank of Moscow (MCB) has launched a debit card delivery service and the possibility of obtaining a cash loan for those who are not yet a client of the bank. Now you can apply for a loan and receive funds without visiting the bank's office via the Internet or the MKB Online mobile bank.
For this it is enough for bank website or arrange for home delivery of a debit card through the contact center. After receiving the card, you need to log in to your personal account via the Internet or the MKB Online mobile bank and fill out an application for an inappropriate loan. After a positive decision of the bank, the funds will be available to the client on a specially opened account directly in MKB Online.
"As a modern and technologically advanced financial institution, we strive to maximize the list of banking products and services available for obtaining online, without visiting the bank's offices," said Alexey Okhorzin, Head of the Directorate for Retail and Electronic Business of MKB. offered to issue a loan online for existing clients of the bank. Now everyone can order an MKB card and get a loan without leaving home. "
All transactions are performed remotely without visiting a bank branch. "MKB Online" also provides tracking of the schedule of monthly loan payments and their repayment.