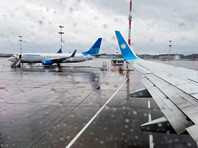 Pobeda Airlines has sent about 100 of its pilots on unpaid leave until the end of the year. This is about a third of all pilots of the carrier. According to the message BBC Russian Service, pilots cannot resign, since in this case they will have to pay about 1.5 million rubles spent on their retraining. This situation mainly affected co-pilots and junior pilots.
Two pilots of the airline spoke about the situation with unpaid vacations and confirmed by three more sources in the Russian aviation industry who are not authorized to officially comment on the media.
One of the victims – a co-pilot-trainee – has already started working as a courier. He fears that after a forced downtime, the management may fire him for incompetence. According to him, "Pobeda" asked to "meet halfway" and take unpaid leave until July in connection with the suspension of flights.
Another co-pilot of Pobeda confirmed that out of 290-300 co-pilots in the company "voluntarily and compulsorily" went on unpaid leave until the end of the year about a hundred people.
According to him, not only co-pilots-trainees, but also co-pilots – those who had little flight time, and those who were noticed violations and mistakes in work, were on leave without wages. At the same time, co-pilots-trainees, who did not want to write vacation applications, allegedly stopped planning flights with instructors, thus depriving them of work. Pilots who continued to fly said that they had significantly more work.
The representative of Pobeda noted that the carrier, "like many other airlines," offered employees to take regular vacations during the period of forced downtime, and some employees took advantage of the offer. "Today, the" raid "in Pobeda is quickly recovering and is already close to the pre-crisis level, the company does not have a personnel surplus," said a company representative.
In March, WHO declared a coronavirus pandemic, after which non-working days were announced in Russia, and the work of organizations and the movement of the population was also limited. In addition, international passenger flights have been suspended since the end of March, while domestic flights have dropped sharply. The restoration of domestic flights began in June; from August 1, passenger flights with Turkey, Great Britain and Tanzania were allowed. The border with Abkhazia is also open.
The government and the president have promised the industry quite serious support, but assistance is allocated with restrictions – for example, it is received by carriers with Russian aircraft in their fleet. In total, the government allocated 23.4 billion rubles to help airlines affected by the drop in traffic due to the pandemic.
Pobeda, the only airline, was denied budget subsidies, "the Vedomosti newspaper wrote.