Russia
During the pandemic, fake food delivery sites have proliferated on the Internet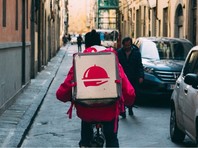 The coronavirus epidemic has spawned many fake food delivery and electronics websites. This was reported by "Kommersant" Alexander Vurasko, Lead Analyst at Infosecurity a Softline Company.
According to him, since the beginning of this year, the company's analysts have discovered more than 200 such resources. The peak of their appearance was in April, and these sites are still working. Vurasco clarified that the list includes 56 Delivery Club clones (there were none before) and 30 copies of Sbermarket and Yandex.Eda each. In addition, the fraudsters copy the sites of Utkonos, VkusVilla and Perekrestok, as well as the sites of the Samsung online store and the Citilink electronics hypermarket. Fake sites almost completely copy the original resources, allowing you to select the goods or dishes you are interested in to order, specify the delivery address and pay for the order by card. In addition, on one of the fake Delivery Club sites, after entering the card data, it is required to indicate the code from the SMS message – according to the authors of the Telegram channel In4security, this may mean linking someone else's number to the victim's mobile bank.
According to Alexei Drozd, head of the information security department at SearchInform, the growth in the number of domain registrations, the names of which include the names of delivery companies, indicates the emergence of a corresponding "grabber" – a program that can reliably copy the look and content of the site. At the same time, Drozd noted that it is more difficult to copy marketplaces with a complex structure than a regular website.
The VkusVilla press service is aware of cases when fraudsters actually offered to deliver their products, but at inflated prices, with different conditions and low quality of service. Many of these sites have already been blocked. Citylink said that in order to remove phishing sites from search results, the company turns to search engines, and to block it – to domain registrars. In the absence of a prompt response from the registrar, the retailer will file a lawsuit.
The press service of Yandex.Food reported that the company did not notice a surge in the appearance of clones of the service. The company added that phishing sites appear from time to time, but are quickly neutralized.
Finally, Maxim Melnikov, head of the information security department at SberMarket, noted that phishing resources do not last long. Most often, they are prepared for a one-time mailing to addresses collected by spammers. Melnikov noted that so far no complaints have been received about SberMarket's clone sites, but phishing attacks are constantly occurring and the number of such sites will grow.