Russia
MaximaTelecom will equip the Moscow metro with a facial recognition system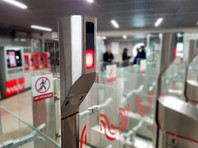 The company "MaximaTelecom", which is the operator of the Wi-Fi network in the Moscow metro, will equip the cars of the Moscow metro with cameras with face recognition. The company received the corresponding state contract following a tender announced by the Moscow mayor's office. The contract amount was RUB 1.37 billion.
That the city authorities are planning to equip about 1,500 cars of the Moscow metro (a quarter of the rolling stock) with cameras with support for a face recognition system, became known at the end of July. Purchase, announced in early July, provided for the allocation of up to 1.4 billion rubles for these purposes. It follows from the documents that eight cameras will be installed in each carriage, which can distinguish and sort faces. The company must complete the contract by March 2021.
According to the Seldon Basis service, over the entire period, MaximaTelecom has won 52 government contracts for a total of 3.93 billion rubles. So, in November last year, she received a tender for the supply of servers for a face recognition system in Moscow for 1.15 billion rubles, writes VC.ru.
Recall that the facial recognition system in Moscow has been introduced for several years, despite the objections of human rights defenders. This technology allows you to find criminals and violators of the self-isolation regime, but, according to some sources, to gain access to it can anyone who wants.
In early July, opposition politician Vladimir Milov and public figure Alena Popova filed to the European Court of Human Rights (ECHR) a complaint about the use of facial recognition technology by the city authorities during a rally in 2019 in Moscow. The plaintiffs believe that the continuous use of face recognition technology at the rally on September 29 violated the citizens' right to privacy (Article 8 of the European Convention), and the inability to avoid the camera violated the right to freedom of assembly (Article 11).
To get to the rally, the participants had to go through the police cordon. Activists noticed human-height cameras on the frames of the metal detectors. According to Vladimir Milov and Alena Popova, this is possibly the first mass use of face recognition technology in Russia.