Russia
Cyprus obstructs EU-Canada trade agreement over halloumi cheese disputes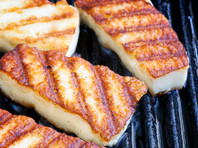 The Cypriot Parliament refused to ratify the free trade agreement between the European Union and Canada, demanding that Brussels and Canada recognize the exclusive rights of Cypriots to the name and recipe of halloumi cheese. Refusal to ratify could cost both the EU and Canada billions of euros and dollars, writes BBC Russian Service.
The government of the Republic of Cyprus announced on Tuesday that it is starting new negotiations to ratify the EU-Canada Trade Agreement (CETA). At the end of last week, parliament refused to ratify the agreement by a majority vote (38 to 17). One of the reasons for the refusal was the need to register halloumi cheese as a product with a protected name and place of origin.
Cyprus has long sought to make the island the only legitimate producer of halloumi cheese (or hellym in Turkish). However, unlike the producers of champagne, cognac or Parma ham, they have not yet succeeded in achieving this. Cheese made from a mixture of sheep and goat milk is famous for its density and the fact that it can be fried on the grill.
Halloumi producers in other countries use much cheaper cow's milk, which, according to the Cypriots, is wrong and deprives them of income: the export of halloumi brings Cyprus about 200 million euros a year. At the same time, last year, the EU Intellectual Property Office refused Cyprus in its demand to secure the name "halloumi", and at the end of the year Cyprus filed for the office with the European Court of Justice.
Politicians and experts, however, believe that after the holidays, Cypriot MPs will still vote for ratification: the ruling Democratic Unification Party is confident that the agreement with Canada is beneficial both for Cyprus and for the entire EU. In addition, Brussels could persuade Canada to ban non-Cypriot producers from selling cheese called halloumi through a Joint Implementation Committee decision.
In addition, the EU trade agreement with Canada has been in effect on an interim basis since autumn 2017, and a qualified majority in the European Council is required to cancel it. To torpedo free trade with Canada, Cyprus will need to enlist the support of at least 16 EU countries, in which at least 65% of the Union's population lives. European publications believe that the Netherlands and Italy may also face problems with the ratification of the free trade agreement with Canada.
The volume of trade between the countries of the European Union and Canada before the pandemic was more than 70 billion euros per year, and, according to a rough estimate of the European Commission, a free trade agreement could add 1.7-2.1 billion euros to the total GDP of the European Union. And easier access to the Canadian market will bring European firms hundreds of millions more euros a year.