Russia
Rodchenkov promised to return to Russia on a white horse after the trial of "Putin's gang"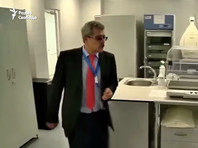 The former head of the Moscow Anti-Doping Laboratory and the main whistleblower of the Russian doping program, Grigory Rodchenkov, gave the first interview in Russian since his flight to the United States. He told the portal "Medusa" on how he treats the accusations of treason on the part of the Russian authorities.
"So they are the first traitors. They lowered Russia below the plinth, they are patriotic – and they point a finger at me. Where am I a traitor? My country is again under tyranny! First, the Bolsheviks seized power for 70 years – murderers and thieves. Now this is Putin's gang. "Murderers and thieves. And I am a traitor? I will return on a white horse. And there will be a big trial. Nuremberg is ahead, you know," said Rodchenkov.
"In Russia everything is turned upside down. And I am truly proud of the fact that they call me a traitor," the scientist added.
Rodchenkov also claims that all Russian athletes are beneficiaries of the doping system created by Putin, and that the country itself cannot be classified as civilized.
"All Russian athletes are formally 'clean' by definition," he said. "Because the sampling system is completely corrupt – if you want to pass it, you don't want to give it up, if you want, others will pass for you. Forget the words" pure athlete. "Russian athletes are not clean. and not sufferers. And I have no pity for them. I am a very kind person, ask anyone. But they have a conspiracy of lies. "
According to Rodchenkov, he took all the benefits from the system only in order to create his own high-tech, highly scientific, but low-moral island – a chemical laboratory. And there will be no such laboratory in Russia in the next 50 years.
The fugitive chemist also explained why he decided to tell the world about the doping system in domestic sports.
"Internal impulses, throwing, I always had them. When on the last day in Sochi I changed samples of this nasty face – I know a lot about him – (bobsledder Alexander) Zubkov and another cheater (skier Alexander) Legkov, I knew that I'll tell you about it sooner or later. "Zubkov then became a flag-bearer and stood with Stalin … Ugh, with Putin … It's unthinkable. It pissed me off, "Rodchenkov admitted, stressing that he had never in his life changed clean samples for dirty ones.
"When I was told that you would go to the pool and drown, and I barely escaped abroad, and then two RUSADA employees were killed … My only opportunity to save my life is to tell the truth. As they say, to relieve myself. There is no time for morality. to be honest, "he added.
Recalling the circumstances of his flight from Russia, the ex-head of the Moscow laboratory drew a parallel with the persecution that the current head of the Russian Anti-Doping Agency (RUSADA) Yuri Ganus is facing today. Rodchenkov believes that he too was hinted – "something could happen to you".
"This is what Ganus is doing now: he checked his heart – everything is fine, checked his blood – there is no heavy metal poisoning. follows the path of Nikita Kamaev… Of course, I also had to chop off my head, but I slipped away. And Ganus has no opportunity, like me, to show an American visa and board a plane. Can you imagine how terrified the person is now? They will drive him into Kashchenko, "the informant believes.