Russia
The "cursed sponge" mushroom listed in the Red Book was found in the suburbs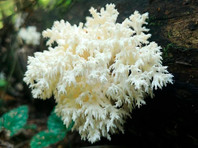 In a forest near Moscow, a coral hedgehog was found – a rare mushroom listed in the Red Book, reports "Interfax" with reference to the press service of the regional forestry committee. This mushroom is found in the Moscow region and the British Isles.
"In the forest near Tuchkovo station on the territory of the Zvenigorodsky forestry (about 80 km from Moscow), an unusual mushroom was found = coral-shaped hedgehog. It is also a branchy and trellate Hericium. And although at a young age this mushroom is considered edible, it is not worth collecting it, because it is introduced to the Red Book ", – the message says.
It clarifies that this fungus serves as a good indicator for assessing the state of the forest, as it grows on decaying wood. This means that the forest where the hedgehog appeared should be protected.
In the UK, it is found in forests with the longest history – for example, in hunting, where trees of all ages are present at the same time and fallen trunks are not removed.