Russia
The Formula 1 team was punished for copying the opponent's champion car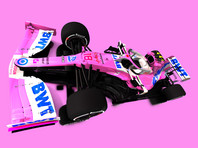 The International Automobile Federation (FIA) punished the Formula 1 team Racing Point with 15 points in the Constructors' Cup and fined 400 thousand euros for copying last year's Mercedes car. Notifies about it FIA press service.
The Renault team complained about Racing Point, having filed three protests after the Grand Prix of Styria, Hungary and Great Britain. The complaints indicated that the Racing Point RP20 cars used by Mexican Sergio Perez and Canadian Lance Stroll are copies of last year's Mercedes team championship cars. In particular, the brake air intakes are a complete copy.
Following the proceedings, the FIA ​​found the Racing Point team guilty of illegal use of air intakes. The FIA ​​determined that the "principal designer" of these elements was indeed the Mercedes team, and therefore they could not be used.
The stewards noted that the team violated the sports regulations and gained an advantage, however, they considered that it did not deserve disqualification.
???? All the details on the FIA decision…# F1 https://t.co/bOCBaBqohX– Formula 1 (@ F1) August 7, 2020
As a result, Racing Point dropped from fifth to sixth place in the Constructors' Championship, while competitors from Renault were in fifth place. The pilots did not lose their points in the individual standings.
The next stage of the Formula 1 Grand Prix will take place at the Silverstone circuit in the UK from 7 to 9 August.