Russia
Juventus fired coach Sarri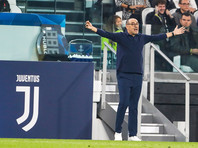 Italian Juventus after departure club from the Champions League dismissed the resignation of 61-year-old Maurizio Sarri from the post of head coach of the team.
"Sarri has been relieved of his post as team coach. The club would like to thank the specialist for writing a new page in Juventus history by winning the ninth championship in a row," official website club.
– The chief psychiatrist-narcologist of Russia predicted dementia and early death for Juventus coach Sarri
Juventus beat French Lyon 2-1 at home on Friday but failed to make it to the Champions League quarter-finals due to an away goal rule. The first meeting ended with a score of 1: 0 in favor of Lyon.
Sarri headed team before the start of the 2019/20 season, at that time he had only one trophy – a victory with English Chelsea in the Europa League (2018).
Led by Sarri Juventus won national championship, and in the Italian Cup final lost in a series of 11-meter "Napoli".
Official | Maurizio Sarri relieved of his post. https://t.co/rYAzQtGAg9 pic.twitter.com/oOYWGJGM4Y– JuventusFC (# Stron9er ??????????????????????????????????) (@juventusfc) August 8, 2020