Russia
Lokomotiv did not invite Semin to the medal presentation, the club's fans booed Kiknadze again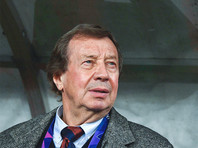 Silver medals awarded to footballers and coaching staff of Lokomotiv Moscow for second place in the Russian championship. The ceremony took place at the Lokomotiv stadium in Cherkizovo as part of a meeting with the fans.
Before the awarding ceremony, the fans of the "railroad workers" once again booed the general director of the football club Vasily Kiknadze.
– Lokomotiv fans buried the club bosses
Lokomotiv finished second in the Russian championship last season and got a direct ticket to the Champions League group stage. The head coach of Muscovites for most of the season was Yuri Semin, who in June changed Marko Nikolic.
"I was not invited to today's presentation. The medal is supposed to be for me. I won 12 matches, and they only four. I think the medal will be passed on somehow, maybe through the administrator," Semin said Championship.
On the eve of Lokomotiv played the first match of the new season, losing 1: 2 Petersburg "Zenith" in the Russian Super Cup.