Russia
mortality in June in Russia increased by 25 thousand people, almost half of them had coronavirus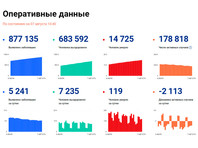 In June of this year, 25 thousand more people died in Russia than in June last year, Rosstat reported. According to the ministry, in June of this year, 162,758 people died in the country (in June 2019 – 137,237 people), reports "Interfax" with reference to Rosstat.
In the first half of 2020, the number of deaths was 946,539 people (for the same period last year – 918,503 people). The increase in mortality for the six months of 2020 compared to January-June 2019 was 3.1%.
In June, 11,917 people who were sick with coronavirus died in Russia. According to official statistics, not all of these people died directly from the infection: 1,399 of them died from COVID-19 provoked comorbidities, 3,481 were diagnosed with the virus, but had no effect on death.
Doctors are still checking the results of analyzes of another 1,589 patients and cannot name the coronavirus as the exact cause of their death. Most – 5,448 – died as a result of infection with COVID-19.
Rosstat notes that the number of deaths from infection has decreased in those regions that were the first to encounter the virus. For example, in June, 1,329 died directly from COVID-19 in Moscow. Compared with May, the number of deaths in the capital decreased by 42.8%.
Later on Friday, the headquarters for combating coronavirus infection explained the differences in its calculations of deaths from coronavirus and Rosstat statistics by the fact that they only count cases where coronavirus became the main cause of death and take data from medical clinics, and Rosstat – from registry offices.