Russia
In the Volgograd region, the deputy staged shooting, threatened with murder and tried to crush the workers of the agricultural enterprise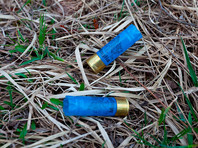 A rural deputy in the Volgograd region tried to crush the workers of an agricultural enterprise in the field and started firing a carbine at agricultural machinery, reports RBK with reference to the Investigative Department of the IC in the Volgograd Region. The name of the deputy is not given. According to the ministry, the reason was the land conflict.
During the investigation of the criminal case, firearms were confiscated from the accused. He denies the fact of the shooting, but he cannot explain to the investigators how the bullets from his gun ended up in the back of the agricultural vehicle.
According to the publication "Notepad. Volgograd"On July 8, a 38-year-old local official drove an SUV to land owned by his underage half-sister. The farmland has been leased by a joint-stock company for several years in a row, but the man, claiming the land of his younger sister, decided to invalidate the documents for the lease extension and went to court, which lost. Then it occurred to him to solve the problem by force.
The man hit one of the workers in the face with his fist, and then aimed the barrel of the carbine and began to threaten that he would shoot. The official shot from a gun the cab and wheels of the grain harvesters, in which people were sitting. None of them were injured only because the bullets did not penetrate the solid metal body of the equipment.
After that, the deputy got behind the wheel of his SUV and drove at high speed towards the nearby workers. One of them did not manage to dodge and run away, the man was injured and is now undergoing treatment.
Investigators establish all the circumstances of the incident, a criminal case was opened under the articles of attempted murder and arbitrariness. The issue of the arrest of the man is also being resolved.