Russia
Two "clean" penalties were appointed at the Spartak goal, Fedun promises to remove the team from the championship (VIDEO)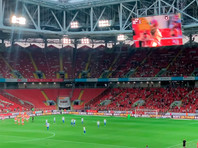 In the match of the first round of the Russian football championship "Spartak" in Moscow drew with a score of 2: 2 with "Sochi". The home team scored goals from Alexander Sobolev (8 ') and Jordan Larsson (10'), the guests were scored by Dmitry Poloz (15 ') and Christian Noboa (90'), the Sochi players scored both goals after dubious penalties.
The 11-meter strikes, which were appointed by the referee Vasily Kazartsev from St. Petersburg, are far-fetched, the decision taken by the referee shortly before the final whistle looks especially ridiculous.
"Tomorrow I will announce that we are withdrawing from the championship, let them play without us," quotes the owner of "Spartak" Leonid Fedun "Sport-Express"… "I don't want to participate in this clownery that was staged. And spend money too. You don't need Spartak, so you don't need it. "
"I just don't have words," the former head coach of "Spartak" Oleg Romantsev continues. "I am sure that millions of fans who watched this match have the same feelings. Not only among Spartak fans, but all. Such penalties are dreaming of coaches and football players only in bad dreams. I feel sorry for the guys! Not everything at Spartak was great, but the team earned their three points! I have never been against VAR, and when I worked as a coach, I even dreamed about it. Now I don't understand why. "
???? Cool goals from Sobolev and Larsson and accurate punches from Poloz and Noboa – in the review of the meeting #SpartakSochi#TinkoffRPL https://t.co/IYeDtESipo– Tinkoff Russian Premier League (@premierliga) August 9, 2020
In the next match, "Spartak" is to play on August 14 against Grozny "Akhmat" and "Sochi" on the same day will meet with the league debutant "Khimki" near Moscow.