Russia
The Russian Ministry of Culture recommended that theaters refrain from performances "with crowd scenes"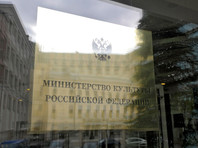 After returning to work, theaters and concert venues were advised to cancel performances and concerts with crowd scenes, and to maintain social distance during rehearsals. Such recommendations were prepared by the Ministry of Culture of the Russian Federation jointly with Rospotrebnadzor and published on the website of the sanitary department. "Interfax".
According to this document, before opening, all sites must undergo disinfection measures. When working with spectators, theater workers must wear masks and gloves, while artists must wear masks only outside the stage, musicians and actors can rehearse and play performances without them. Restrictions have also been set for spectators; now they are allowed to enter the event site only in masks or respirators.
Singing and expressively speaking artists are required to maintain a distance of at least four meters during rehearsals. And performances with choral and crowd scenes should be excluded from the repertoire.
It is also necessary to organize the arrangement of the artists in the orchestra during group and general rehearsals, taking into account the characteristics of musical instruments: the distance between the artists of string groups, percussion and keyboard instruments must be at least 1.5 meters, the distance between the artists of the wind groups must be at least 2 meters, while before wind instruments it is necessary to use protective shields protruding above the bells of the corresponding instruments.
At the concert, it is prescribed to adhere to the traditional arrangement of the musicians in the orchestra; protective screens are installed in front of the wind instruments.
During a concert or rehearsal, no exchange of drumsticks, instruments, instrument parts or accessories is allowed. Separate consoles are installed for each musician in the string group if there are difficulties with reading notes at a distance of 1.5 meters between the chairs.
Foreign artists recruited to work and entering the Russian Federation must provide a medical document (in Russian and English) confirming a negative result for COVID-19. In the absence of such documents, they will be tested for coronavirus within three days of arrival.