Russia
Peter Green of the first Fleetwood Mac lineup dies at 73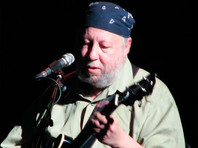 The founder of the British-American group Fleetwood Mac, Peter Green, has died. He was 73 years old. He died on July 25 in his sleep. "Interfax".
Greene formed Fleetwood Mac with drummer Mick Fleetwood in 1967. They convinced bassist John McVee to join the band, and his surname later became part of the band's name.
According to the British television broadcaster BBC, Green was the author of the song Albatross, which became the only Fleetwood Mac hit to reach the first line of the British charts, as well as the famous compositions Black Magic Woman and Oh Well.
He co-produced the band's first three albums, but left Fleetwood Mac in 1970 amid health problems. He was diagnosed with schizophrenia and spent several years in the hospital.
After Green left the band was joined by the Americans Lindsay Buckingham and Stevie Nix, who changed Fleetwood Mac's style and helped bring the group to world fame.
Green, along with the rest of Fleetwood Mac, was inducted into the Rock and Roll Hall of Fame in 1998.