Russia
Russians repaid microcredits with state child benefits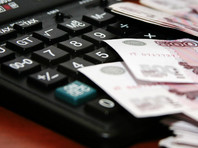 The payments of "Putin's" allowances for children from three to 16 years old in the amount of 10 thousand rubles coincided with the peaks of the return of microloans by Russians, writes RBK with a link to the data of the CloudPayments payment service. According to his statistics, since April, when the self-isolation regime was introduced in Russia, the volume of online loan repayments has dropped sharply. The number of transfers to MFOs began to grow only in the second week of June, after Russians began to receive one-time child benefits.
CloudPayments also recorded spikes in microloan returns on specific dates when a large number of Russians received state aid. This trend was confirmed by the Eqvanta Group of Companies (Bystrodengi and Turbozaim brands), Lime-Loan MFC and Zaymer MFC.
To assess the impact of child payments on microloan returns, CloudPayments analysts compared the volume of debt repayments by weeks up to July 19. The period from 6 to 12 April was taken as a base – the first full week in self-isolation. According to this methodology, the level of remittances in favor of MFIs began to grow only in the second week of June: the benefits received helped people to improve their financial situation and gradually begin to repay debts.
The second wave of payments of presidential benefits fell on the beginning of July, at the same time a significant improvement in debt collection was recorded. The volume of refunds in the period from June 29 to July 5 was only 9% below the base level, and in the week from July 6 to 12 – already by 8%. The worst situation was during the May holidays and in early June, when payments fell by 20-30%. And the peak of redemptions fell on July 1, with the beginning the second stage of state support.
In addition, a significant increase in returns fell on "salary" days: in the summer in most regions of Russia, severe sanitary restrictions were lifted, people were able to return to work and start paying off their debts in conditions of greater financial certainty. Loan collection also increased due to stricter selection of clients: during the pandemic, it became more difficultthan before the coronavirus crisis.
In early June, some clients of Sberbank began to complain that payments from the Pension Fund were written off by the bank at the expense of old debts. One of the women complained that an SMS about the write-off of 10 thousand rubles sent to her by the Pension Fund came on June 1, just a minute after the SMS about the transfer of money. Legal entities also faced the write-off of state aid funds: the bank's press service said that on some of the complaints, the check had already been completed and the money had been returned.