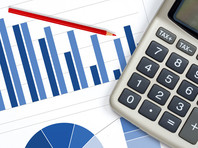 EU GDP, according to preliminary estimates, fell by 14.4% in the second quarter compared to the same period in 2019. This was reported by the European statistical agency Eurostat.
According to him, this decline was the most serious since the beginning of observations in 1995. The GDP of the main countries of the community – France and Germany – fell by 19% and 11.7%, respectively.
The largest decline is observed in Spain: compared to the same period last year, the kingdom's GDP decreased by 22.1%. Least of all, the coronavirus pandemic affected the economic indicators of Lithuania, which, compared to the second quarter of 2019, decreased by only 3.7%, TASS reports.
On Thursday, the US reported a record decline in GDP in the second quarter. There the decline was 32.9%, according to a press release from the Bureau of Economic Analysis of the US Department of Commerce.
Analysts polled by Reuters were expecting a 34.1% decline.
In the first quarter of 2020, US GDP declined 5%. In the first quarter of 2019, the country's GDP growth in annual terms was 2.9%, in the second – 1.5%, in the third – 2.6%, in the fourth – 2.4%.
The fall in US GDP in the second quarter was a record in the history of agency monitoring since 1947. The previous record was recorded in the first quarter of 1958, when the figure fell by 10%. The strongest annual decline was recorded in 1932 – by 12.9%, such statistics have been kept by the department since 1930. RIA Novosti.
"The decline in GDP in the second quarter reflects the response to COVID-19, the instructions to stay at home, which were introduced in March and April, were partially withdrawn in several regions of the country in May and June, and support payments from the authorities during the pandemic were sent to households and business, "the ministry said in a release. The real rate of decline in consumer spending in the United States for the quarter, according to the first estimate, amounted to 34.6% after the decrease in the first quarter by 6.9%.
US GDP data are published monthly by the Bureau of Economic Analysis in both nominal and real (inflation-adjusted) prices. The quarterly GDP report is published for the first time at the end of the month following each quarter, after which the original estimate is revised twice.