Russia
Rapper Andy Cartwright's wife charged with murder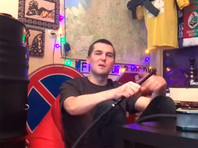 The wife of rapper Andy Cartwright (Alexander Yushko) Marina Kohal was charged with murder, reports RIA Novosti with reference to the GU SK in St. Petersburg. Now she is being interrogated as a suspect.
"According to the investigation, the accused, no later than July 29, 2020, being in an apartment of one of the houses on Nevsky Prospekt during a conflict that suddenly arose out of personal hostile relations, caused the death of her husband by an unidentified investigation method. Further, in order to hide the traces of the crime, the accused dismembered the victim's body into separate body parts for the purpose of subsequent destruction, "the ministry's press service said.
The investigation is going to petition the court to choose a preventive measure against her in the form of detention. We will remind, on Wednesday evening in an apartment on Nevsky Prospekt, the police found the body of a 31-year-old man. The body parts were packed in five bags, and a hacksaw, a basin and a cutting board were found at the scene.
To the dead ended up Ukrainian rapper, participant of Versus Battle Andy Cartwright (real name – Alexander Yushko).
Yushko-Cartwright's wife claims that he died of a drug overdose, after which the woman dismembered him, because she did not want everyone to know about such an inglorious death, and decided that "he would simply disappear." The spouses left a child, he was handed over to the relatives of the deceased …