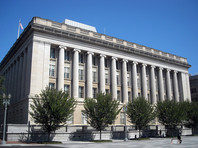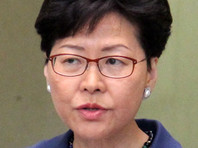 The United States imposed sanctions on the head of the Hong Kong administration, Carrie Lam, for restricting political freedoms in this administrative region of the PRC, reports "Interfax" citing Associated Press.
The US Treasury announced the sanctions. Restrictions are being imposed on Lamas, as well as some Chinese officials. Hong Kong Police Commissioner Chris Tan, his predecessor in this post Lu Weicong (Stephen Lo), Secretary (Minister) for Security John Li, Secretary of Justice Teresa Cheng (Zheng Ruohua) and other local officials fell under the restrictions. According to Washington, those whose names were included in the sanctions lists are involved in "undermining Hong Kong's autonomy and restricting freedom of speech and assembly."
"The United States supports the people of Hong Kong, we will use our tools and powers against those who undermine their autonomy," said US Treasury Secretary Stephen Mnuchin, quoted in a press release. Lam previously announced that elections to the Hong Kong Legislative Council would be postponed for a year due to a sharp deterioration in the epidemiological situation.
The announcement of the postponement of the expression of will was made at the end of the candidate registration process, which lasted from 18 to 31 July. The Legislative Council of Hong Kong is a 70-seat unicameral parliament. Half of the deputy corps is elected by direct vote by territorial constituencies, the other half is nominated by sectoral communities on a professional basis.
Representatives of opposition parties oppose the idea of ​​postponing the vote, believing that this will reduce their chances. They expected to occupy half of the seats in order to be able to control the parliament and block the adoption of certain pro-Beijing laws. In late July, the election commission denied registration to 12 candidates with "unpatriotic views", including radical youth activist Joshua Wong, a leader of the Hong Kong protest movement.
Recall that on June 30, the Standing Committee of the National People's Congress (parliament) adopted a law on ensuring national security in Hong Kong. It aims to prevent crimes such as separatism, terrorism, undermining state power and collusion with foreign forces, and provides for life imprisonment as the capital punishment.
The central government of China has also established special state security bodies in this administrative region, which will not be subject to the jurisdiction of the Hong Kong administration. This law drew sharp criticism in the United States and in the West, where Beijing was accused of violating democratic principles and reducing the level of autonomy of the PRC special administrative region.
The United States passed the Hong Kong Autonomy Act, which provides for sanctions against Chinese officials who have restricted Hong Kong's freedoms. US President Donald Trump said earlier that, in addition to the law, a decree was signed abolishing Washington's privileged attitude towards Hong Kong. In particular, this leads to the termination of trade preferences and to the termination of the transfer of American technology there.