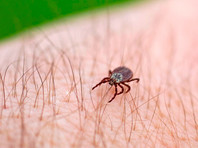 Cases of acute fever with thrombocytopenic syndrome (SFTS) caused by a member of the Bunyavirus family and transmitted to humans through tick bites have been reported in at least three provinces in China. Chinese edition Global Times reports at least seven deaths and more than 60 infected.
More than 37 people were infected in Jiangsu province in eastern China in the first half of the year, according to media reports. The virus was later detected in 23 people in Anhui province and in residents of Zhejiang province. In the last two provinces, seven people have died from the virus. One of the infected said that symptoms included coughing, high fever, and a decrease in the level of white blood cells and platelets in the blood. The woman was treated in the hospital for a month.
For the first time, the SFTS virus was detected in the PRC back in 2009, but it is little studied. According to Chinese doctors, tick bites are the main source of infection, but it can potentially be transmitted from person to person through blood or mucous membranes. Chinese doctors assure that there is no need to fear mass infection: it is enough to observe caution and hygiene.
Rospotrebnadzor reported that no cases of SFTS were recorded in the Russian Federation. "Specialists of the scientific organizations of Rospotrebnadzor have accumulated extensive experience in studying numerous representatives of the Bunyavirus family, and there is a potential to counteract the spread of SFTS in the Russian Federation," website federal service.
The department noted that the disease can be detected using PCR and ELISA tests. Systematic work is underway to study the pathogen. The incidence is of limited focal character. SFTS outbreaks have been reported at various times in Japan, South Korea, Vietnam and Taiwan. Among the symptoms, in addition to those mentioned, include lesions of the gastrointestinal tract, vomiting, diarrhea, added in Rospotrebnadzor. Mortality ranges from 6 to 30 percent.
Virologist, Doctor of Medical Sciences, Researcher of the Research Center of Epidemiology and Microbiology named after Gamaleya Anatoly Altshtein in a commentary to the TV channel "Star" noted that the SFTS virus is transmitted "rather difficult" and not dangerous as an "epidemiological agent".
"Any fears that a new epidemic will begin and widespread are unfounded. There is no danger. He is not a virus that will spread quickly and well," Altstein said. At the same time, there is no treatment and vaccine for this virus, the virologist noted. "They take care of a sick person, give him all sorts of medications that alleviate his condition, but they are all nonspecific. That is, he is recovering due to natural reasons," the professor said in a conversation with Business FM.