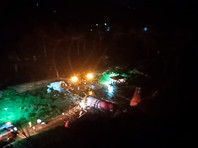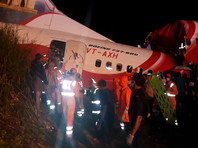 On August 7, an Air India Express plane, which flew from Dubai to the Indian city of Kozhikode, left the runway and collapsed. The cockpit was particularly affected. There were 190 people on board – 184 passengers and six crew members. "Interfax".
The emergency happened after a rain on a slippery runway. Many passengers were saved by the fact that the plane did not catch fire. When landing, the plane moved at full speed and slipped past the runway, after which it fell apart.
The airport is currently closed.
The flight was carried out as part of a program for the return of Indian citizens from abroad who remained abroad due to the pandemic.
According to police, 14 people died in the plane crash. 123 people were injured, 15 of them were seriously injured.
At least 20 people died and more than 140 were injured as a result of the hard landing of an Air India plane on Friday at the airport, the Hindustan Times reported, citing officials. According to the newspaper, both pilots of the liner were killed. 15 people were seriously injured.
Indian Civil Aviation Minister Hardeep Singh Puri said "rescue operations have been completed" and "the victims are receiving assistance at various hospitals in the city." The victims were sent to 13 hospitals in the cities of Kozhikode and Malappuram.
Press attaché of the Russian Consulate General in Chennai, Yuri Belov, said that there were no Russians on the plane that crashed in India. "At the moment, the Honorary Consul of Russia in Kerala Ratish Nair is investigating this information. But, according to preliminary data, there were no Russian citizens on this board," the diplomat said.
Malappuram collector has informed that rescue operations at site have been completed. All have been transferred to hospitals in Malappuram & Kozhikode:Kerala CM

Directorate General of Civil Aviation says death toll in the flight crash landing incident is at 16.(Pic source:NDRF) pic.twitter.com/CFmTDhyXxP– ANI (@ANI) August 7, 2020