Russia
Ramzan Kadyrov's daughter became the first deputy minister of culture of Chechnya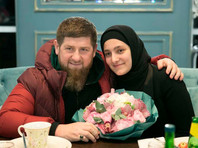 The head of Chechnya, Ramzan Kadyrov, announced the appointment of his daughter Aishat to the post of the first deputy minister of culture of the republic. About this he wrote in your telegram channel.
"I sincerely congratulate her on another important event in her life! Appointment of Aishat to the new position is a firmly balanced decision. Despite her young years, she has rich experience in managing the most complex and large-scale projects, including in the field of culture," head of Chechnya.
He recalled that over the past few years Aishat "has successfully headed the Firdaws fashion house, whose collections are appreciated and admired by a wide audience in many countries." "Here Aishat has already done a great job, showing through art to the whole world our wonderful customs and traditions, revealing the unique image of a Chechen woman," the head of Chechnya stressed.
He noted that "Aishat made a great contribution" to the development of the Philharmonic Society of the Chechen Republic. According to Kadyrov, his daughter "always helps aspiring and acting artists, pop ensembles."
In March 2020, Aishat was awarded the Medal for Services to the Chechen Republic.
Kadyrov expressed confidence that "Aishat Ramzanovna, being the granddaughter of our first president, Hero of Russia Akhmat-Khadzhi Kadyrov, knows the meaning and value of the words of her beloved grandfather:" There is no nation without culture. "
The initiative to appoint Aishat Deputy Minister comes from the Minister of Culture of Chechnya Khozh-Baudi Daaev, the father of the hereditary official assured. "I know that she is a pronounced supporter of the path of reviving the true Chechen values ​​and will approach her new responsibilities with all seriousness and responsibility. I am convinced that Aishat will cope with the tasks set. I wish her good luck and great success on this path!" – concluded the head of Chechnya.