Russia
SpaceX's prototype Starship made its maiden flight (VIDEO)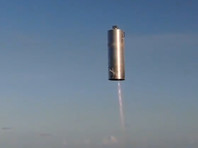 On the night of August 5, the SN5 prototype of the Starship spacecraft, which is being developed by the American company SpaceX, made a test flight to an altitude of 150 meters, and then landed near the launch pad.
Recall that the Starship spacecraft is being developed by SpaceX as the second stage for a future super-heavy rocket designed to deliver people and cargo to Mars. The Starship Prototype Test Program includes testing fuel tanks for high pressure resistance (cryogenic pressure testing), firing tests on the ground and taking off to an altitude of 150 meters followed by landing.
The SN5, powered by a single Raptor engine, was the first Starship prototype to pass all of these tests. Immediately after takeoff, the rocket began to tilt and shift to the side, but since the engine has a deflected thrust vector, it compensated for the shift in a few seconds, and the rocket flew almost vertically upward. Then the device briefly hovered at the same height and began to descend. During the descent, the Starship was tilted quite strongly, but at the same time it descended without displacement. After the cloud of dust and smoke dissipated, it became clear on the broadcast that the rocket had successfully landed a few tens of meters from the launch point, writes N+1.
Starship takes flight pic.twitter.com/IWvwcA05hl— SpaceX (@SpaceX) August 5, 2020
Trials of four previous Starship prototypes ended in accidents. During cryogenic tests, accidents happened to the prototype Starship Mk1 last November, prototype SN1 late February and prototype SN3 in the beginning of April. Prototype SN4 exploded at the end of May during the next fire tests.
Last year, SpaceX put together a smaller Starship prototype called Starhopper. The main program of this prototype was successfully completed in August after it rose to a height of 150 meters, and then landed. It now serves as a static test bench for Raptor engines. Earlier, Elon Musk said that the company plans to send a Starship prototype into orbit in 2020, but now the first full launch of the final version of the rocket is tentatively scheduled for 2021.