Russia
Canadians suspected of plagiarism the creators of the new emblem of FC "Tambov"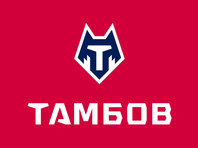 On the eve of the Russian Football Premier League club "Tambov" presented its new logo and corporate identity developed by the sports design studio Quberten. The Wolves logo has sparked controversy and accusations of plagiarism from across the ocean.
Users on social networks noticed the resemblance to the Toronto rugby team emblem. The Canadian club also drew attention to the embarrassment by making corresponding Twitter post.
Quberten sees nothing critical about its resemblance to the Canadian rugby club emblem. It is noted that the designers went through countless versions, so there is no plagiarism in their work.
"If you look at our numerous options, it becomes clear that we did not steal anything, there is no plagiarism," the portal assured. Sport24 art director of Quberten Mikhail Antipin. – It happens when you step on the road of minimalism. There are a lot of coincidences, we often come across this. Unfortunately, such situations often happen, but nothing critical. Our logo is slightly different in style. Yes, the design and layout are similar to Toronto, there are such intersections. "
In the new season – with a new logo! ????????????#FKTambovVRPL pic.twitter.com/KCaAKzCzqb– FC "Tambov" (@ fctambov68) August 6, 2020
"From the very beginning we saw the letter" T "as the main letter of the city and the team, the second symbol, of course, was the wolf. The bee, also one of the symbols of Tambov, was a backup option. We tried to integrate the bee and the wolf, in principle, this is a similar idea. the shape of a pentagon is a ball panel, it's just football. It just so happens that they are similar, so I don't see any problem in general, "summed up Antipin.
In the summer of last year, the residents of Tambov, having made their way to the RPL, have already made a rebranding. Instead of the emblem of the Tambov region, the Tambov wolf and the ball appeared. However, due to an unsuccessful design, according to the football community, on the eve of the 2020/21 season, the club presented a new logo.
Last season, the club finished 14th in the Premier League.