Russia
The largest colored diamond in the history of Russia was mined in Yakutia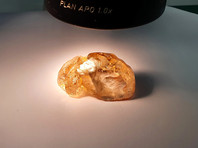 A deep yellow-brown diamond weighing 236 carats was mined at the Ebelyakh placer deposit of Alrosa's subsidiary Almazy Anabara, reports RIA Novosti.
"This is the largest colored diamond ever mined in Russia. The diamond measures 47x24x22 mm. The age of the gemstone, according to preliminary estimates, ranges from 120 to 230 million years," the parent company said in a statement.
According to Pavel Vinikhin, Director of the Diamonds Alrosa branch, this is a unique find on a global scale. The crystal was handed over to specialists for evaluation. After that, the company will decide whether to transfer it for cutting to its craftsmen, or sell it uncut.
The Ebelyakh alluvial diamond deposit, located on the right tributary of the Anabar River of the Sakha Republic (Yakutia), has previously produced stones of rare colors. In the summer of 2017, three unique fancy diamonds were mined here at once – bright yellow, pink and purple-pink. All three stones were cut and presented as diamonds to the general public.
Alrosa is one of the three largest diamond mining companies in the world, its share in the world production volume is 25%. Another 6% is accounted for by the Angolan company Catoca, in which Alrosa has 41%. In Russia, the company conducts production in the Republic of Sakha (Yakutia) and the Arkhangelsk region. The shareholders of the company are the Russian Federation represented by the Federal Property Management Agency (33.02%), Yakutia – 25%, as well as its uluses (districts) – 8%, almost 34% of shares are in free circulation.