Russia
Juventus and Real are eliminated from the Champions League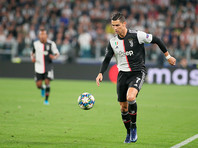 French Lyon lost 1: 2 to Italian Juventus in the second leg of the Champions League round of 16, but due to the victory in the first meeting (1: 0) advanced to the quarterfinals thanks to more away goals.
Memphis Depay scored a penalty for the French in the 12th minute, and Cristiano Ronaldo scored a double in the Turin club (43 'from penalty, 60').
"We were eliminated from a tournament in which we won six matches out of eight, drew one and lost one," quotes Juventus head coach Maurizio Sarri Goal… – This means that in eight meetings we would have scored 19 points. If there was a table in the Champions League, we would be in first or second place. Instead, Juventus were eliminated. That's why I'm incredibly sad. "
Congratulations to@OL for the qualification to the quarters of #UCL#JuveOL https://t.co/NNG0x5Ml2b– JuventusFC (# Stron9er ??????????????????????????????????) (@juventusfc) August 7, 2020
English "Manchester City" won at home with a score of 2: 1 Spanish "Real". Raheem Sterling (9 ') and Gabriel Jesus (68') scored the goals of the "townspeople", Karim Benzema (28 ') scored with the Madrid team.
The first meeting took place in Madrid and ended with a similar result (2: 1) in favor of the English club. The rival of Pep Guardiola's team in the quarterfinals will be the French "Lyon".
The Champions League was suspended in March due to the coronavirus pandemic. On Friday, the first matches took place after a pause. Starting from the quarterfinals, all games will take place in Lisbon. The quarterfinals will be held on August 12-15, the semi-finals on August 18-19, the final will be held on August 23. Playoffs are played without spectators.
Match highlights are now over on the website for your viewing pleasure ????

???? #ManCity | https://t.co/axa0klD5rehttps://t.co/LnBFHkkFCM pic.twitter.com/RechNXkciG– Manchester City (@ManCity) August 7, 2020